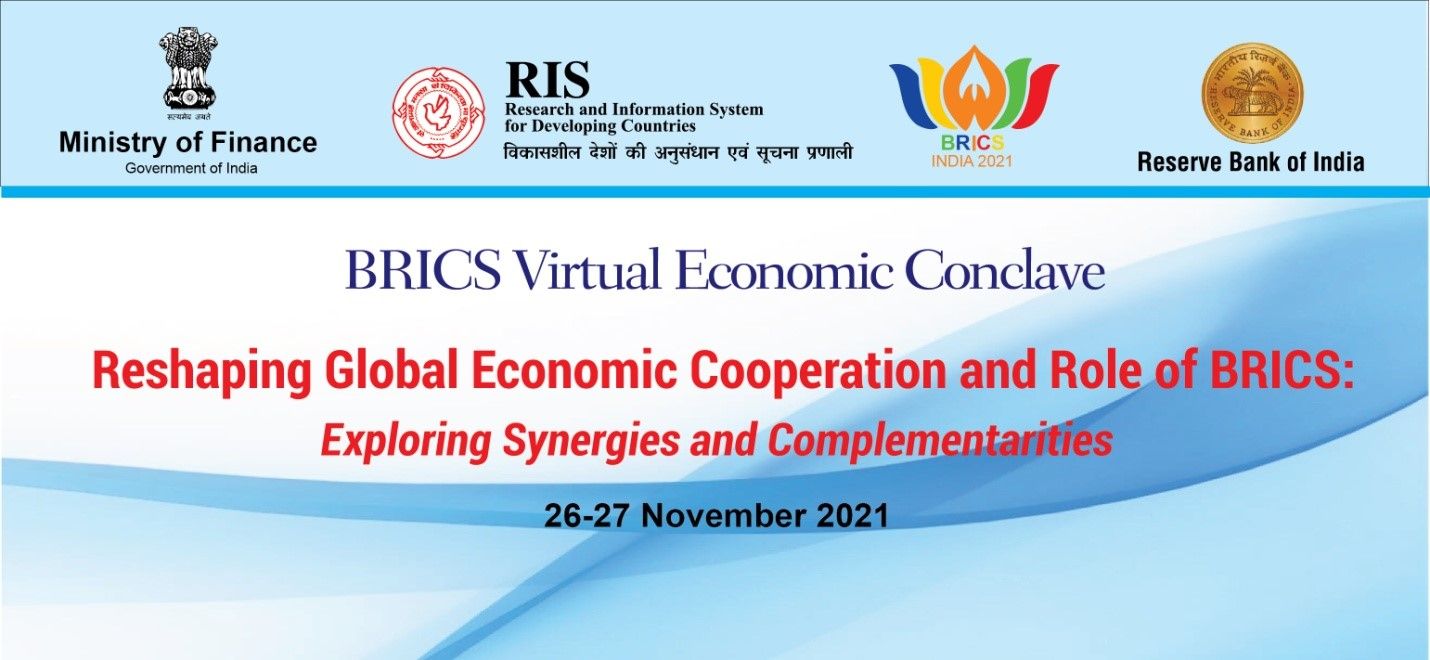 Our lead UK Investigator, Professor Thankom Arun, attended the BRICS Virtual Economic Conclave 2021- hosted by Research and Information System for Developing Countries (RIS)  in collaboration with the Ministry of Finance, Government of India and Reserve Bank of India (RBI). The event took place on November 26-27, 2021. 
There were four technical sessions – 
Financial Market Development, chaired by Dr. Krishnamurthy Subramanian (Chief Economic advisor, Ministry of finance, Government of India); 
Innovation economy, chaired by Professor Lakhwinder Singh, Professor of Economics and Coordinator, Centre for Development Economics and Innovation Studies, Punjabi University); 
Green Finance, chaired by  Biswajit Banerjee, (Adjunct Senior Fellow, RIS and Expert Advisor to Governor, National Bank of Slovakia, Slovakia)
Digital Economy (Chair: Professor Thankom Arun, Director, Centre for Accountability and Development, University of Essex, UK).
The panel
The panel on the 'digital economy', chaired by Professor Thankom Arun, comprise esteemed panel members – 
Dr. Alexandera Morozkina, Senior Research Fellow, Financial Research Institute of the Ministry of Finance of the Russian Federation, Moscow and Associate professor HSE University
Mr. Arvind Gupta, Head and Co-Founder of Digital India foundation 
Ms. Keyzom Ngodup Massally, Senior Advisor, Chief Digital Office, United Nations Development programme, New York. 
The panel extensively discussed the insights on policy initiatives needed to promote the digital economy that BRICS can leverage to attain higher economic growth, employment generation, and related institutional and regulatory challenges.
Abstract
Adoption of digital technologies globally in economic and social spheres is growing rapidly. Besides contributing to the 'Ease of Living' for the ordinary people, digital economy offers tremendous scope for economic growth, investment, diversification of skills and occupations, and structural change.
The pace of digitalization and its spillover effects are captured well in the Digital Economy Report 2019 by UNCTAD. As per the Report, Global Internet Protocol (IP) traffic has registered dramatic growth in the recent decades from about 100 gigabytes (GB) per day in 1992 to more than 45,000 GB per second in 2017. Further, global IP traffic is expected to reach 150,700 GB per second by 2022.
While rise in internet penetration and mobile telephony indicates the scale and speed of digital adoption, it is the new vintage of digital technologies such as Artificial Intelligence (AI), Internet of Things (IoT), Block Chain, Distributed Ledger Technology (DLT), Big Data, Robotics, Machine Learning (ML), Deep Learning (DL), etc that would drive the future growth of digital economy across the world.
Emerging markets, BRICS in particular, are well-placed to derive significant economic gains from faster adoption and use of advanced digital technologies. Some of the sectors that are witnessing fastest growth by embracing digitalisation are banking & financial services, FinTech, e-commerce, business consultancy and other services. Besides services sectors innovative digital technologies are also transforming manufacturing landscape worldwide including the BRICS countries.
Besides economic gains, digitalisation should help achieve societal goals like financial inclusion, women empowerment, among others. The ordinary people should be able to use digital tools to avail better public services such as health, education and other essential services. Digital technologies have improved access to affordable financial services catering to different strata of the society.
FinTech products including peer-to-peer lending, crowd funding, digital wallets, mobile-based online payments, asset management and other services are fast-growing segments in India. Growing middle class along with faster spread of urbanisation in India would fuel activities in the banking and financial services sector which will create jobs and empower people at large. India and BRICS countries can leverage on the potential unleashed by digital technology including the FinTech sector.
Key Questions answered :
What are the specific sectors of digital economy that BRICS can leverage to attain higher economic growth and employment generation?
What are the policy initiatives needed to promote trade and investment in the emerging segments of digital economy like digital health, digital education, FinTech, Agritech, and so on?
What types of institutional and regulatory preparedness needed to prevent cybercrimes and ensure orderly growth of digital economy? 
(Source: RIS Concept Note on BRICS Virtual Economic conclave 2021, the section on digital economy)